Hair for your Special Day
After the dress and shoes, hair and make up pulls that whole look together!
Looking for Pictures to help decide what look is best for you?
Here are some of our favorite galleries, examples and links to them!
HairBoutique.Com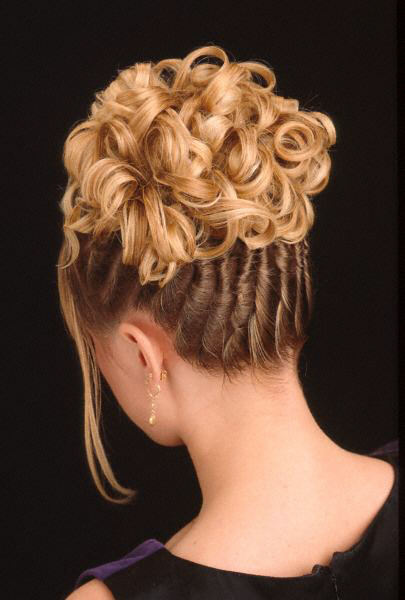 Hair boutique is our favorite site for gaining ideas and inspiration for hair styles.
With advanced search options you just cannot go wrong!
21 pages of hair styles grace the pages of Brides online.
Unless you live in Australia, the links to the stylists won't help you find someone local,
but will give you plenty of hair voyeurism opportunities!
USABride.Com
USA bride offers a few pictures and good advice to get your search started!
OneWed.Com

One wed is fun for inspiration and for the funky names they give these hair styles.
We ask, what would a 'On the Prairie', the 'Sunshine' or the 'Madonna' look like?
WeddingChannel.Com
Over 100 styles to get your creative juices flowing! Print out a few favorites and bring them to your stylist. Sometimes words escape us, but pictures will make sure your vision gets across!
TheKnot.Com
The Knot has 78 hairstyles to peruse, all quality images.
Jump over to the area message boards, make friends and find out which stylists other brides in your area will be using for their special day!
Hair Gallery Links
HairResource, want a hair style you have seen on a celebrity, check them out.

LongLocks is a great resources especially for the do it yourselfer. Explanations and instructions!
UpdoPrincess lets you in on hair trends for 2008!
Join the conversation over at TheNest: Who did your wedding hair? Find out from brides thathave been there and done that!
This page at Squidoo; Wedding Hair Styles has advice and their own gallery!
Wedding hair at iVillage. Get advice from expert Louis Licari!
This Ezine article will help you decide what hair style to choose and who to choose to do it

Here is a very fun wiki for Wedding Day Hair!
Wedding Hair at Zimbio
!
There is also a page dedicated to
Updo's
!

This is a fantastic short hair resource:
Short Hair Style Advisor

Happy Planning!
~w.s.